Shopping Cart
Your Cart is Empty
Thank you for your business!
You should be receiving an order confirmation from Paypal shortly.
Exit Shopping Cart
Welcome to SFI Houston Area
Sisters Fellowship International was introduced in Houston Area out of love and passion for God and that is what this ministry represents. The ministry of SFI worldwide celebrated its 30th anniversary in April of 2017.
HOUSTON CITY Get Ready !!!
Wednesday Dec. 30th , 2020 Fellowship
Psalm 91

New Living Translation (NLT)
Those who live in the shelter of the Most High

will find rest in the shadow of the Almighty.
This I declare about the Lord:
He alone is my refuge, my place of safety;
he is my God, and I trust him.
For he will rescue you from every trap
and protect you from deadly disease.
He will cover you with his feathers.
He will shelter you with his wings.
His faithful promises are your armor and protection.
Do not be afraid of the terrors of the night,
nor the arrow that flies in the day.
Do not dread the disease that stalks in darkness,
nor the disaster that strikes at midday.
Though a thousand fall at your side,
though ten thousand are dying around you,
these evils will not touch you.
Just open your eyes,
and see how the wicked are punished.
If you make the Lord your refuge,
if you make the Most High your shelter,
no evil will conquer you;
no plague will come near your home.
For he will order his angels
to protect you wherever you go.
They will hold you up with their hands

so you won't even hurt your foot on a stone.
You will trample upon lions and cobras;
you will crush fierce lions and serpents under your feet!
The Lord says, "I will rescue those who love me.
I will protect those who trust in my name.
When they call on me, I will answer;
I will be with them in trouble.
I will rescue and honor them.
I will reward them with a long life
and give them my salvation."
Psalm 91 King James Version (KJV)
1 He that dwelleth in the secret place of the most High shall abide under the shadow of the Almighty.
2 I will say of the Lord, He is my refuge and my fortress: my God; in him will I trust.
3 Surely he shall deliver thee from the snare of the fowler, and from the noisome pestilence.
4 He shall cover thee with his feathers, and under his wings shalt thou trust: his truth shall be thy shield and buckler.
5 Thou shalt not be afraid for the terror by night; nor for the arrow that flieth by day;
6 Nor for the pestilence that walketh in darkness; nor for the destruction that wasteth at noonday.
7 A thousand shall fall at thy side, and ten thousand at thy right hand; but it shall not come nigh thee.
8 Only with thine eyes shalt thou behold and see the reward of the wicked.
9 Because thou hast made the Lord, which is my refuge, even the most High, thy habitation;
10 There shall no evil befall thee, neither shall any plague come nigh thy dwelling.
11 For he shall give his angels charge over thee, to keep thee in all thy ways.
12 They shall bear thee up in their hands, lest thou dash thy foot against a stone.
13 Thou shalt tread upon the lion and adder: the young lion and the dragon shalt thou trample under feet.
14 Because he hath set his love upon me, therefore will I deliver him: I will set him on high, because he hath known my name.
15 He shall call upon me, and I will answer him: I will be with him in trouble; I will deliver him, and honour him.
16 With long life will I satisfy him, and shew him my salvation.
SFI 2020 Annual Convention Jingle
HOUSTON AREA IS READY FOR ANOTHER LIFE TRANSFORMING AND POWER PACKED PROGRAM. JOIN US ON JULY 11TH - 14TH, 2019 @ 5PM DAILY.
OVERCOMING BY THE POWER OF THE HOLY SPIRIT
SFI HOUS

​

TON AREA ANNUAL PROGRAM
Please Join Us as we raise the banner of God higher in Houston
​
Tex
​
as.
Click Here to Add a Title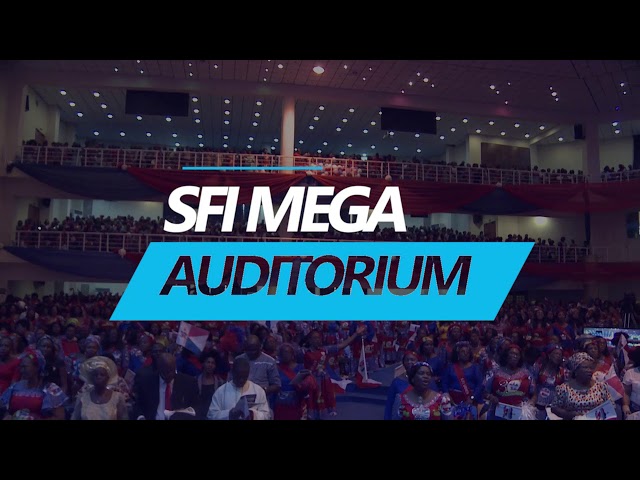 Click Here to Add a Title
Click this text to start editing. This block is great for showcasing a particular feature or aspect of your business. It could be a signature product, an image of your entire staff, an image or your physical location, etc. Double click the image to customize it.
Rev., Mrs. Nches Iredu

International President / Founder SFI

The Lady With the Lamp

Houston Celebrity Crush
- The Vision of this ministry was given to Rev. Mrs., Nches Iredu, our Mummy, spiritual leader, mentor and life coach.

- Sisters Fellowship International is built on TWO solid principles: LOVE AND APPRECIATION.

- SFI worldwide celebrated its 30 years anniversary in April of 2017.

- We are a group of women that love the Lord, pacify Gods heart and desires to make it at the Masters' feet.

- Impact the whole nations of the world with the glorious gospel of Christ for a purposeful and fulfilled life on earth.

- To ensure the world knows that God's love is true, real, infallible & unconditional. John 3:16

- To practice the love of God which God spoke about in John 15: 12— This is my commandment, that ye love one another as I have loved you.

- We appreciate the Love which Jesus bestowed on mankind. 1 John3: 1

- To bring Christians together to genuinely appreciate each other's gifts and talents. 1 John 4: 7-8

- To lead women and youths to the saving knowledge of our Lord & savior Jesus Christ.

- To make room for capacity building, teaching & training women & youths to develop skills & potentials that will make them useful to themselves and to the world at large.

- To give hope and gladness to the broken heart, neglected & destitute. Giving meaning to lives through charitable acts.

- To create an exciting atmospheres in homes that is full of God's love, joy and peace, thereby building strong family ties.

- To help couples discover that marriages can be exciting and enjoyable not enduring and warfare, but sweet and blissful.

- To increase the potentials for social work among communities.

- We are NOT a church and do NOT intend to be one.

- We are not a social group or a women's liberation ministry.

0

/